The presence of a fence in a house will not only sharpen the area of the house but also create safety and privacy. Especially if you have a backyard or front yard in your house where you often enjoy your quality time there.
The fence for the front yard or backyard can give a specific and special effect to the entire house.
There are many options of a fence nowadays such as a wooden fence, bamboo fence, iron fence, and many more. A proper fence will bring the comfort and privacy you want without reducing any architecture style of the house. For you who look for backyard & front yard fence ideas, here are some inspirations.
Backyard Fence Ideas
Since it is located in the back of the house, some people want a simple fence for their backyards. Here are the ideas of a simple yet stylish fence for your backyard.
Lattice Fence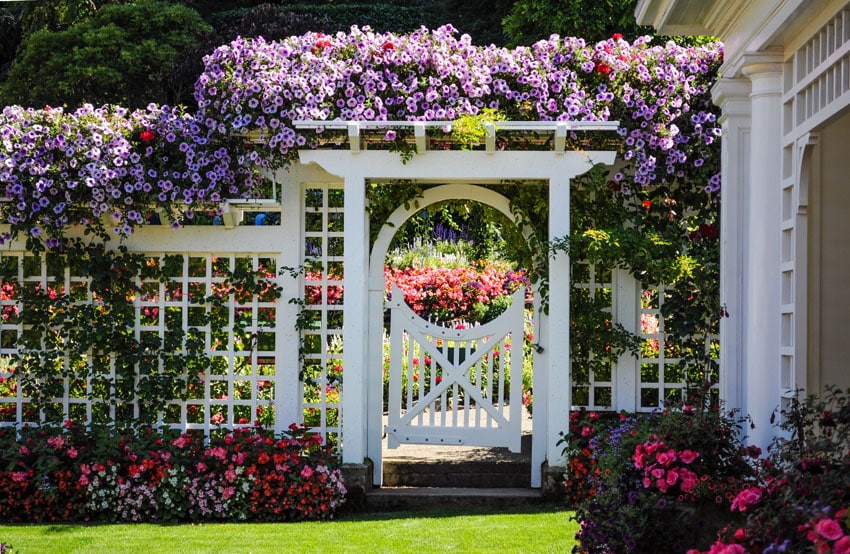 The first backyard fence idea is a lattice fence. This type of fence uses materials such as vinyl, woods, or PVC.
It has 2 inches of space between fence so that lattice fence is able to give enough privacy without feeling isolating the house from the surrounding neighborhood. This lattice design is mostly used as a decorative fence.
Modern Pallet Fence
The wooden pallet has a flexibility that makes this material mostly used for many products including a backyard fence. Modern pallet fence is very suitable for you who are searching for the modern fence ideas for your house.
If the backyard of your house is small, this fence is a right choice. Modern pallet fence can bring a rustic style with a modern touch to your backyard.
Timber Picket Fence
This backyard fence idea is really simple yet charming, suitable for you who want to have a traditional yet stylish backyard fence. Timber picket fence will give you a privacy with a sharp rustic style to the exterior design in your house.
Horizontal Stacked Fence
Horizontally stacked fence combines the arranged irons and woods materials. If you want to bring a contemporary style to your backyard, this fence is a perfect solution for you. It gives a well-kept privacy without blocking the area of your view.
Bamboo Fence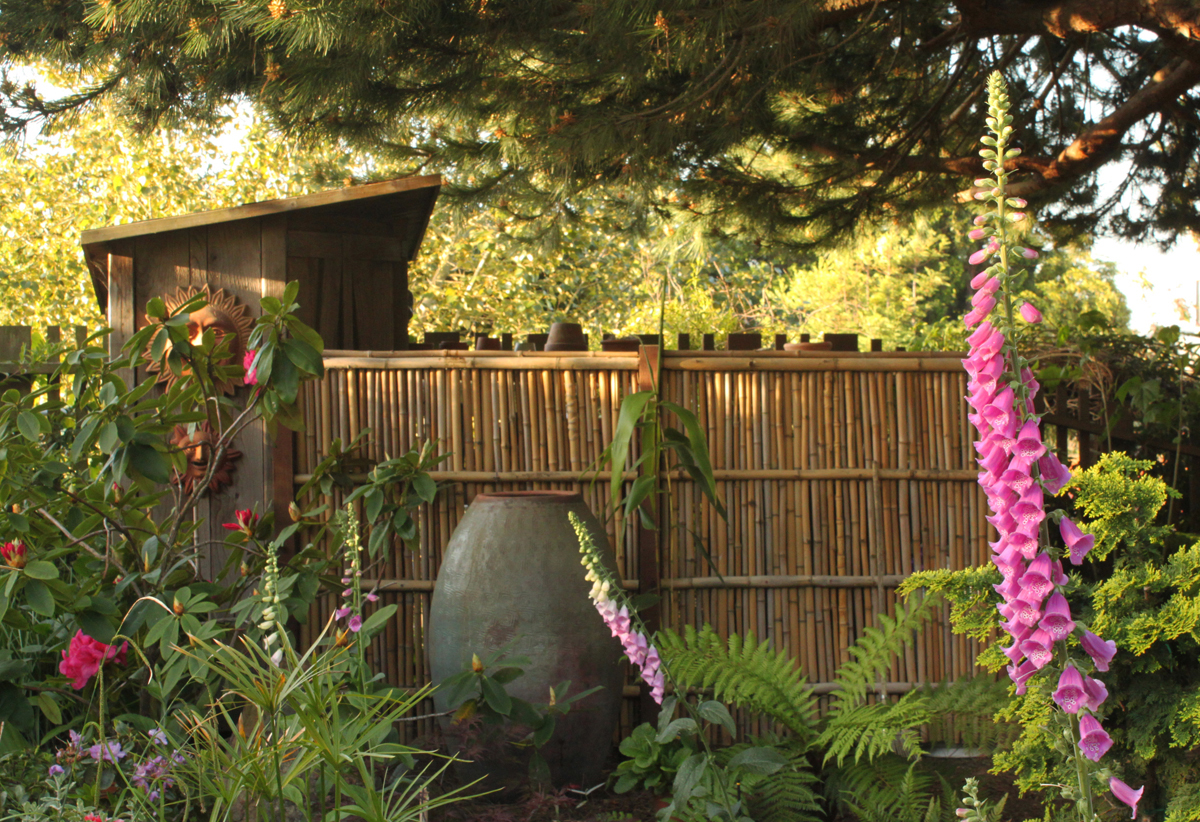 Bamboo is one of the best materials for a fence. This material is durable and requires an easy treatment and maintenance.
A neat arrangement of bamboo can be a super attractive fence for the backyard of your house. Its ornamental design is really suitable for a backyard area.
Modern Wood Textured Fence
Another modern fence ideas for your backyard! The modern wood textured fence is suitable if you have a spacious backyard.
It is not really high with a combination of modern and contemporary style. This kind of backyard fence does not isolate your house but give enough privacy for you.
Front Yard Fence Ideas
Front yard fence should be very attractive since it is located in the front part of a house and included in the exterior house design. Here are some inspirations.
Wood Panel Fence
The most common way of using a wood material for a fence is by using its natural texture. But if you want something fresh and new, you can paint grey the wood panel to be used as your front yard fence.
This idea will change the material's look as well as showing the new aspect of the wood material itself. Dark grey wood panel fence is a great option for you who look for the elegant and modern fence ideas.
Wood Filigree Panel Fence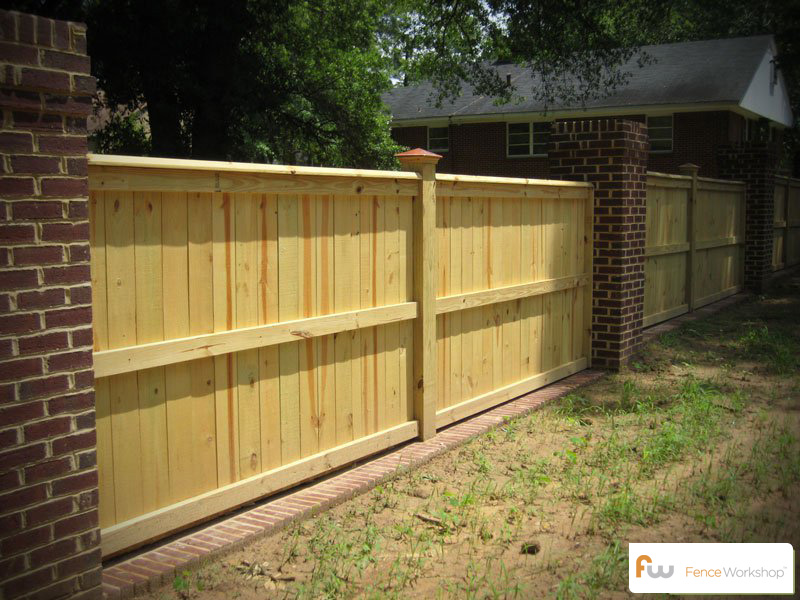 Wood is the best material for the outdoor fence because it is resistant to rust and weather. Especially if you choose a high-quality one and coat it.
You can have a light front yard fence which is made from wood parts that are put together in a mesh pattern.
This pattern will allow the sunlight to come into your front yard. Paint blue the wood filigree panel fence to make it looks unique and matches with the green grass and colorful flowers.
Board Terrace Fence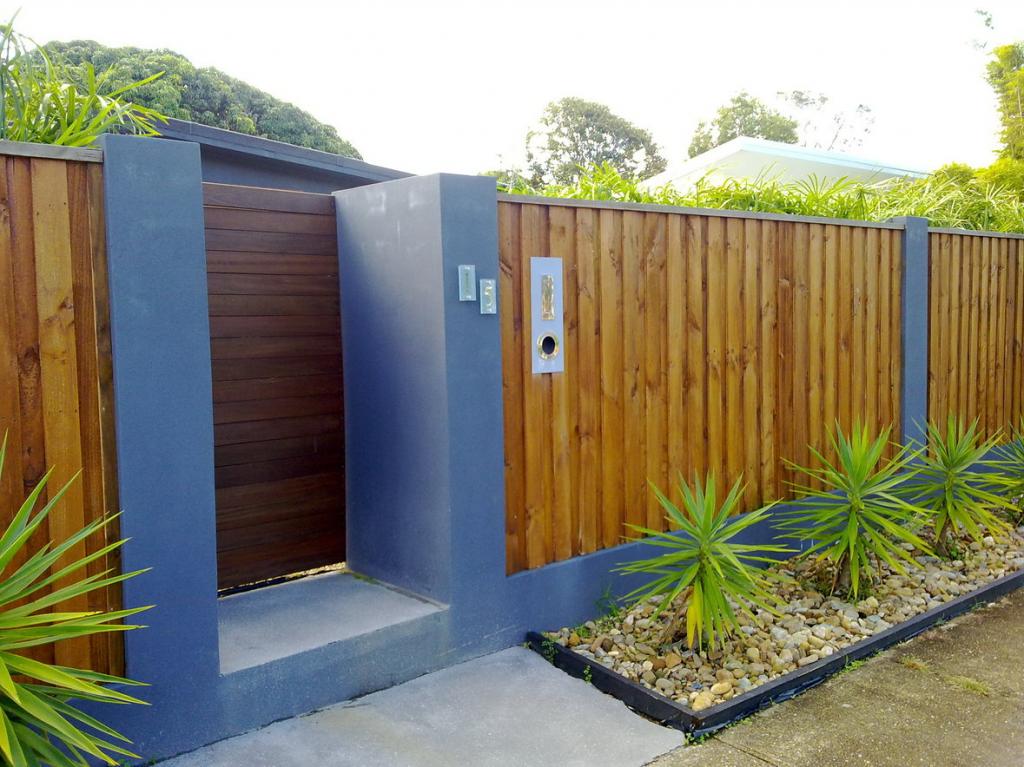 The wood terrace which is surrounding the front yard according to its original form is a creative idea. As an addition, you are able to install some simple boards in each corner that plays a role as a curtain. This way you will have your own privacy when you are relaxing in your front yard with your family.
Green Concrete Fence
In this front yard fence idea, you can use your green plants. Put your green plants in the dark grey concrete pots. Arrange the pots neatly or in a particular line. This green concrete fence is really unique and able to give protection to the front yard of your house.
Semi-transparent Fence
Use a metal rod material for the fence panel and support it with the acrylic frosted glass. This light yet perfect front yard fence design is really suitable for the roof and house facade with white colors.
This semi-transparent fence is reliable to give a protection for your front yard without isolating your house.
Brick Fence
If you are a fan of a classic and natural style, you will surely love this front yard fence idea. The natural colors of the bricks will go along with any house style. The brick fence will make your house looks like a palace from the outside.
Stones and Woods
If the walls of your house are made from a concrete material with white color, you can combine it with wood panel fence. Complete it with the stairs with natural stones in order to make your front yard even more beautiful and create a harmony in your house.
Those are the backyard & front yard ideas which can be your consideration. No matter what your choice is, make sure you maintain the fence well since it is located in the outside part of your house. So that you can have the fence for a long time. Regular treatment will do.